Breakdown: How good can Michigan basketball commit Ignas Brazedeikis be?
Ignas Brazdeikis is an Ontario (Canada) native that's been committed to the Wolverines since September 22.
Yes, Ontario, Canda; Yes, every Michigan fan thinks of Nik Stauskas.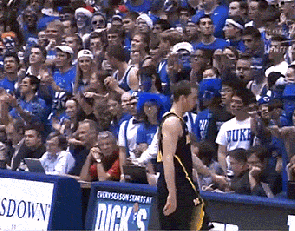 Rankings and Offers
247Sports Composite Rankings: 42nd overall, 11th small forward, 2nd in Ontario.
Brazdeikis holds 20 offers from Division I schools, including: Florida, Seton Hall, Oregon, and Florida.
What Ignaz Brazedeikis will bring to Michigan
Ignas Brazdeikis stands 6-foot-8, 220 pounds, and the best part of his game is that he is a complete scorer.
The guy can do everything.
Brazdeikis is a great shooter off the catch, and his ability to get to the bucket, or shoot a pull-up jumper, gives defenders fits. His ability to back down defenders, and finish going to his left or right, will definitely be on display if he plays the 3 at Michigan – which seems likely, considering the commitment of 4-star PF Brandon Johns (East Lansing, Mich.).
Two small – but important – details of his game that make him a great scorer: His footwork and his ability to finish with both hands.
If Brazdeikis didn't shoot a jump shot all game, you wouldn't be able to tell which hand is his dominant one. He's also got a spin move going to the rim that he seems to use often with success.
Where Brazedeikis Fits at Michigan
I would've projected Brazdeikis as a power forward at Michigan if it weren't for the aforementioned Johns.
The reality is that Johns is a more traditional four, but doesn't have the size to play the five-spot. There isn't any doubt that Brazdeikis can score from the small forward position, but he may have a hard time guarding quicker opponents. Those same quicker opponents will definitely have trouble trying to guard Brazdeikis, due to his length and size.
By the time he gets to campus, there should be spots that need to be filled – namely the holes left by Duncan Robinson and Charles Matthews. I project him to be a main scoring option when he gets to Ann Arbor in 2018.
Ceiling Comparison
If Brazdeikis reaches his ceiling, it will remind fans of Boston Celtic legend Paul Pierce.
Like Pierce, Ignas can score in every way possible. He wont blow you away with athleticism, but he is good off the dribble and keeps defenders off-balance with his wide arsenal of moves.
This is definitely a lofty comparison, but, if Brazdeikis can put it all together, he will put up huge numbers.
More Highlights