Michigan picks up win against Maryland
Michigan picked up their second straight win with a 68-67 victory over the Maryland Terrapins.?
The Wolverines looked sluggish after having only one day rest after knocking off Michigan State on the road.
They came out better in the second half, but still needed a hail mary pass from Isaiah Livers and 2 free throws from MAAR to escape with a 1-point win.
Michigan's slow start, hot ending
At the beginning of the game, the Wolverines were taking good shots, but they just weren't falling. Head Coach John Beilein would have to get more out of his players in the second half.
Thankfully, the offense was vastly improved.
After only shooting 31 percent from the field in the first half, the Wolverines shot 50 percent in the second half.
Young guys bringing the spark
Outside of Moe Wagner, everyone looked slow on offense. That is, until freshmen Jordan Poole and Isaiah Livers ripped off 9 straight points on 3 three point shots.
Not only were they hitting shots, they were letting everyone know it.
Michigan's freshmen really bring different energy. Poole hits three 3-ptrs in two minutes and waves to the crowd, claps in Jared Nickens face. Isaiah Livers hits a 3 of his own, waves to the crowd to get up after being subbed out.

— Brendan F. Quinn (@BFQuinn) January 16, 2018
This was a part of a run where Michigan made 7 of 8 shots.
It seems pretty obvious that we need to see more Jordan Poole. Every game he brings something that I don't expect from him. This game it was this hesi that got his guy stuck in quick sand, then the reverse layup for the finish: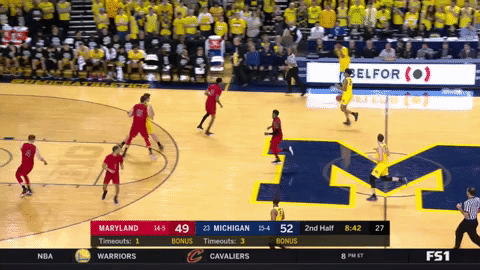 Final play
After Maryland hit that huge 3 to go up by 1 point, the game looked grim.
Then Isaiah Livers delivered a pass that would make Tom Brady proud:
MAAR got the ball with 3.5 seconds left, took it to the bucket and got fouled. Despite having a poor shooting night, he hit both the free throws for the win.
Player of the Game – Moe Wagner
Wagner has been absolutely on fire these past few games.
This game he put up 18 points (6-9), 11 rebounds, and a block.
Wagner having great games has been so important to the Wolverines this season, and it will continue to be. He is without a doubt the biggest star on this team.
Quick thoughts
Jaaron Simmons got more of a run than we normally see – 6 minutes
Maryland only had 8 assists on their 67 points
Zavier Simpson (2-12), Charles Matthews (3-10), and MAAR (2-9) all struggled to score from the field. It feels good to escape with a victory having 3 starters take that many shots and shoot poorly.
Here is a link to the full box score.
Catch the Wolverines on Thursday the 18th at 9:00 when they take on the Cornhuskers in Nebraska.