Rapid reaction: Michigan hits game winner to top Houston
Michigan (3) hit a game winning 3-pointer?to beat the Houston Cougars (6) by a score of 64-63.
Houston slipped by the SDSU Aztecs in their first game of the tournament by 2 points. Behind a monster 39-point game from senior guard Rob Gray, the Cougars were able to deal with the Aztecs' length and get the victory.
Michigan had a 14-point win over the Montana Grizzlies, despite playing some of their worst basketball of the year.
There have been a lot of games this season?where Michigan?wins despite a bad shooting night. This was?one of those nights.
Michigan's spark
Duncan Robinson off the bench gave Michigan a spark. Hit two 3-pointers and drew a charge to turn the tides for an ailing Wolverine team.
Through the first ten minutes of the game, Robinson was 3-3 from the field. All of his shots were three pointers. Outside of Robinson, the Wolverines were 3 of 12 from the floor.
His play early in the game completely turned the game around.
Containing Rob Gray
Houston's leader struggled heavily in the first half.
He shot 2 of 11 (18 percent) for 8 points.
Defensively, Michigan was giving Gray a lot of attention, and rightfully so. He was put in situations where he would draw two Wolverines and would take a contested shot instead of finding his open teammates.
Zavier Simpson was his normal self. Playing defense with his quick feet, not fouling, and Gray was visibly frustrated:
The second half was a different story. Rob Gray had 15 points (6-11), and it looked like he was on his way to willing the Cougars to a victory.
Not only did Gray heat up, but the officials started calling the game much more soft than they had in the first half. Somehow this was called a foul on Moe Wagner:
Jordan Poole's game winning shot
With the game on the line, and less that 5 seconds left, freshman guard Jordan Poole entered the game to hit a shot that will rival Trey Burke's against Kansas: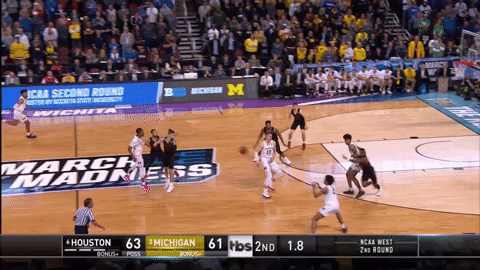 Player of the game -?Jordan Poole
Okay, Jordan Poole didn't play much of the game, but how could it be anyone else?
Poole hit the game winning 3, as time expired, while being fouled, from way beyond the arc.
The freshman had 8 points (3-5), 2 rebounds, 1 steal, and the game winner.
Here is a link to the full box score.
Michigan plays the winner of Texas A&M (7) and North Carolina (2), who face off tomorrow, March 18, at 5:15 p.m. EST.