Sweet 16 game preview: Michigan vs Texas A & M should be an even matchup
Michigan will face off with Texas A&M in the Sweet 16 on Thursday night in Los Angeles.?The 3-seed Wolverines are hoping to find that offensive rhythm it had in the Big Ten Tournament. Meanwhile, 7-seed TAMU wouldn't mind playing the same game it did against 2-seed North Carolina in the Round of 32.
The Aggies pulled off?a 21-point upset on North Carolina to make it to this Sweet 16 matchup. Junior Center Tyler Davis put on up 18 points, 9 rebound and 3 blocks in the victory.
Michigan had a miracle win over the Houston Cougars in the 2nd round of the tournament. Moe Wagner had 12 points, 7 rebounds and 3 assists; But, it was true freshman?Jordan Poole that won the game for the Wolverines: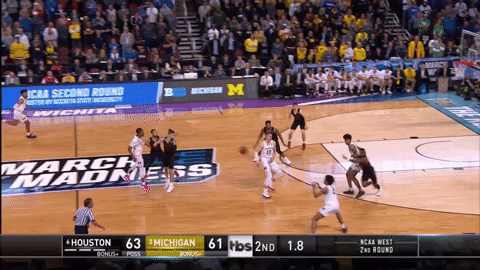 Editor's Note: *watches forever*
How's this matchup going to shake out?
Let's break it down with some story lines.
Texas A&M's physicality
The biggest concern heading into this game is the size and physicality of the Aggies.
Their starting lineup features two 6-foot-10 big men. Tyler Davis is a 266-pound center that leads A&M in points per game with 14.6, and is a rebound per game?short of averaging a double-double. At the other forward spot is 241-pounder Robert Williams, who's also close to averaging a double-double, with 10.3 points per game and 9.3 rebounds per game. Williams is a potential lottery pick in the NBA draft.
Center Tonny Trocha-Morelos plays big minutes off the bench, averaging 22.2 MPG. He averages 6.8 points and 4.4 rebounds per game.
Throw in 6-foot-9 forward DJ Hogg and the Wolverines are at a clear size disadvantage.
Their length is a big part of their defensive success, which is 12th in effective field goal percentage, per Kenpom.
A&M?scoring
A&M is a really balanced team in terms of who is providing all the points.
5 players on the team average 10+ points per game:
Tyler Davis – 14.6 PPG
Admon Gilder – 12.4 PPG
DJ Hogg – 11.2 PPG
Robert Williams – 10.3 PPG
TJ Starks – 10.1 PPG
The Aggies have averaged 75 points per game this season.
Although, Texas A&M gets to the free throw line quite a bit, they are one of the worst free throw shooting teams in the nation. They rank 320th in free throw percentage… which is 8 spots higher than the Wolverines.
On to Michigan …
Michigan needs to start making shots
In both their games against Montana and Houston, the Wolverines won because of their defense. It's the Sweet 16, so it's time to start playing the best and hottest teams in the NCAA. Playing defense while struggling on offense won't win games anymore.
Muhammad-Ali Abdur-Rahkman has?been really off the last two games, which wasn't the case in Michigan's Big Ten Title run. He's a combined 7-of-26 in The Tournament so far. Over that two-game span, MAAR has the most shot attempts on the team, while only shooting 27-percent form the floor.
Michigan hasn't been getting terrible shots. They do get late into shot clock now and again, but that's nothing new.
It really comes down to the Wolverines just hitting shots, something they did regularly in the Big Ten Tournament.
Head Coach John Beilein has referred to defense when asked why Jordan Poole hasn't seen game time. It may be time to sacrifice some defense to get the offense going.
Their cold streak has been uncharacteristic, but this team could turn it around in their next game. Despite their cold streak, Michigan is still able to win games due to their defense and ability to play clean. According to Kenpom, the Wolverines is 4th in the country in turnover percentage.
Getting Wagner the ball
Moe Wagner has been sort of invisible in the NCAA Tournament. When he gets it going, nobody can keep up with him due to his versatility on offense. For that reason, Michigan should look to get him the ball on the block and let him face-up or back-down his opponent.
Force the defense to react.
If they want to play him straight up, then let him attack them all game. If he can see the ball go in a few times, Wagner is more than capable of putting the team on his back.
Verdict
This game should be a thriller. KenPom projects Michigan will win 68-64, as of Wednesday afternoon.
A&M is freaky long and athletic, but Michigan has handled those types of teams before by just playing cleaner basketball. It could be difficult to shut down the Aggies since they have so many guys that can score, so Michigan's offensive performance should be the biggest indicator of success. If the Wolverines are able to pick it up on offense, even just a little bit, then I like their chances of making the Elite 8.
Staff predictions
Landon Dillion: 70-69 Michigan
Brandon Justice: 77-70 Michigan
Ant Wright: 74-63 Texas A&M
Tanner Wooten: 71-57 Michigan
Eric Coughlin: 68-65 Michigan
LGHail:?Lost on a cruise
Michigan and Texas A&M face off on Thursday, March 22. The 7:37 p.m. EST, tip will be televised on TBS.
Get your Overdose of Swag shirts HERE!